Commercial Solar Panels
WHERE THE SOLAR REVOLUTION MEETS COMMERCE AND INDUSTRY.
Solar Optimum has been instrumental in bringing hundreds of Industrial and Commercial endeavors into the solar age. Our highly skilled Solar Experts include engineers, project managers and master electricians — all dedicated to ensure that your business thrives under the power of the sun.
When we undertake a Commercial or Industrial project, we design, build and manage the plan from start to finish — regardless of complexity and size. So whether its rooftop solar, ground mount solar, carport solar, long-span canopy or tracker, our team thoroughly analyzes the project's particular requirements in order to create a system that's not only compliant with State and Federal codes, but also helps keep the municipality in which you do business environmentally friendly. We'll put your enterprise on the road to energy independence to enjoy a more lucrative bottom line by drastically decreasing financial overhead.
Solar Optimum is much more than meets the eye. We're a "Premium EPC company," which means we excel in Engineering, Procurement and Construction. Other companies are often considered either one or the other — but not all three. Solar Power Magazine has ranked Solar Optimum as a top solar contractor in the United States. In 2019, Solar Optimum was ranked the #1 Commercial Developer in California and #7 Commercial Developer in the United States. Click here to read more >>
We have installed numerous solar panels for industrial projects across the entire State of California.
Are you thinking about Energy Independence? Its time you call Solar Optimum for Energy Peace of Mind™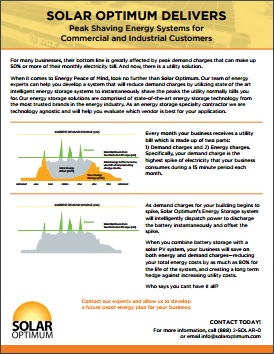 Contact us today for a free on-site consultation!
Call Us Toll-Free (888) 276-5270 Or Complete The Form Below.